CS Seminar – Lightweight Multi-Threading, Kyle Wheeler
Friday, November 7th, 2014 in ENGR 103
All students are welcome to attend!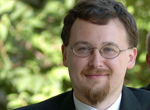 Kyle Wheeler, Senior Advanced Memory Software Architect at Micron Technology will present on "Lightweight Multi-Threading." Kyle is a large-scale lightweight threading researcher, focusing on hardware/software interaction, synchronization, and locality-based scheduling and memory management. Kyle has been involved in several software projects, most notably Qthreads and Portals4.
Kyle earned his PhD and M.S. of Computer Science & Engineering at the University of Notre Dame and his B.S. of Computer Science at Ohio University.
About the Company:

For more than 30 years, Micron's teams of dreamers, visionaries, and scientists have redefined innovation—designing and building some of the world's most advanced memory and semiconductor technologies. They develop the technologies that transform what's possible. In fact, you likely use their memory every day—in products from computing, networking, and server applications, to mobile, embedded, consumer, automotive, and industrial designs.
http://us.micron.com/micron-in-usa/us-jobs